Flexible electronic exchange network
The bizBox services are provided pursuant to EDI standards and in a network that ensures safe exchange of business e-documents. It provides traceable and reliable delivery of different types of structured documents for various B2B and B2G processes. The exchange in the bizBox network is supplemented with advanced services, interfaces and tools to simplify e-business, such as electronic archiving, controls, signing, conversions between standards, visualisation, creation of e-documents, integrations and international networking.
Simple use and implementation of electronic exchange
The electronic exchange services are available to users via the online e-mailbox and the mobile app. The bizBox electronic exchange is included in a wide range of business and accounting applications. For advanced integration of multiple systems, it is also possible to use the free-of-charge EDI client.
It provides control of exchange, traceability, process monitoring, e-document content, statistics and analyses.
B2B operations can be tailored to the company and its needs via a single point for different B2B processes.
It supports various protocols, links, safe channels and B2B processes:
E-invoices
EDI e-ordering
Logistics and transport
E-delivery and shipment delivery
External trade (customs clearance, EMCS, Intrastat)
Catalogues – master data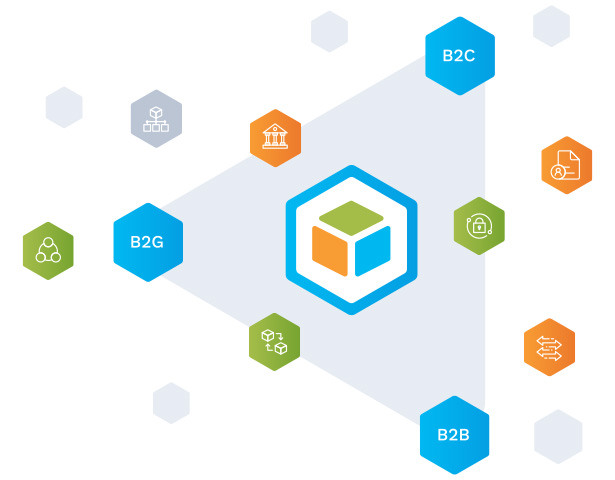 Support for standards
The bizBox ensures safe exchange for all types of partners and exchange channels (AS2, AS4, WS, SFTP, OFTP2, FTPS, MQ message queues, etc.).
Various exchange modes and standards of partners are no longer a problem, since the bizBox adjusts your operations and e-documents to the requirements of your partners.
The bizBox supports different document standards typical of various areas of operations, governments and processes, such as external trade, EDI e-ordering, delivery and transport or e-invoicing.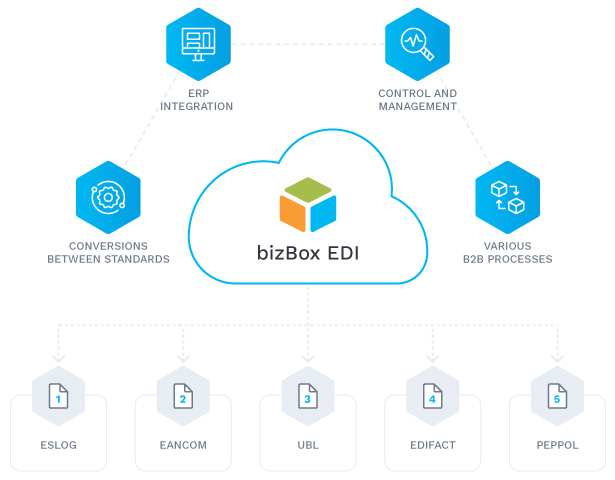 Do paperless business today!
The bizBox module for the exchange of e-documents is already integrated in most Slovenian business and accounting apps, meaning that transmission and receipt (EDI) as well as the e-mailbox can be part of your environment in just a few minutes with no investment at all. To integrate various processes and EDI documents, we provide conversions between standard e-documents upon prior order.
An overview of already integrated applications is available HERE. The bizBox electronic exchange can also be used independently via a web application, free client or partner networks, such as the banking channel.
The e-mailbox for the receipt of e-documents and short-term storage is provided to each registered user free of charge. However, outgoing transmission is subject to payment with respect to the number of e-documents (invoices, order forms, etc.) sent.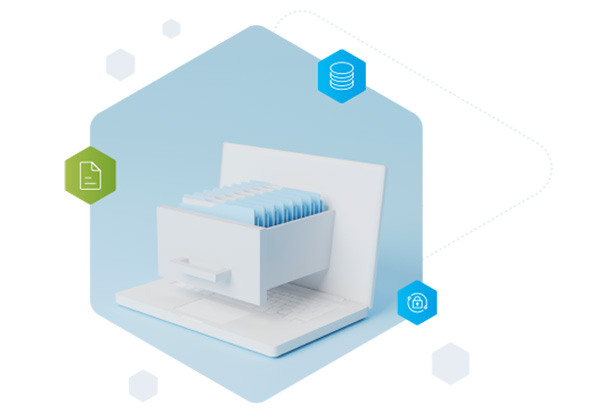 Benefits:
The largest electronic exchange network in Slovenia and the region
Uniform EDI exchange for all standards and countries
Electronic exchange already integrated in your system
Simple registration and low costs
A cloud service for e-business, including the eHramba.si electronic archiving service, in a single package
Quality 24/7 support without additional costs