Simple e-invoice preparation
The bizBox e-invoice apps and services enable the acceptance of data, e-invoice preparation and issue, signing, addition of attachments and invoice transmission through the safe bizBox exchange network.
You may issue e-invoices to the public sector and business partners in Slovenia and abroad pursuant to their requirements. Your e-invoice may also be printed and delivered by ordinary post at the request of the recipient.
Web application for e-invoice preparation
Issuing and sending from your app (Link to partner solutions)
Invoice as part of the ordering process
E2P – e-invoice conversion and printout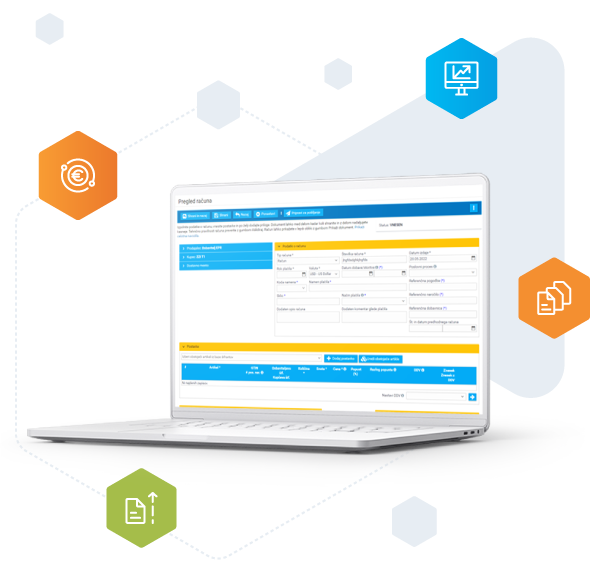 Simple electronic exchange of e-invoices
The bizBox exchange network provides safe, reliable, compliant and traceable delivery of e-invoices without manually transferring the files.
The capture, transmission and receipt of e-invoices as well as transmission to banking and state environments are carried out automatically. All users have access to the bizBox exchange through their own system or the web or mobile apps.
The bizBox e-mailbox (web, mobile or desktop app)
The bizBox electronic exchange network under EDI and EU standards for invoices
The electronic exchange of all types of invoices, order forms, delivery notes and so on.
Digitalisation of dealings with partners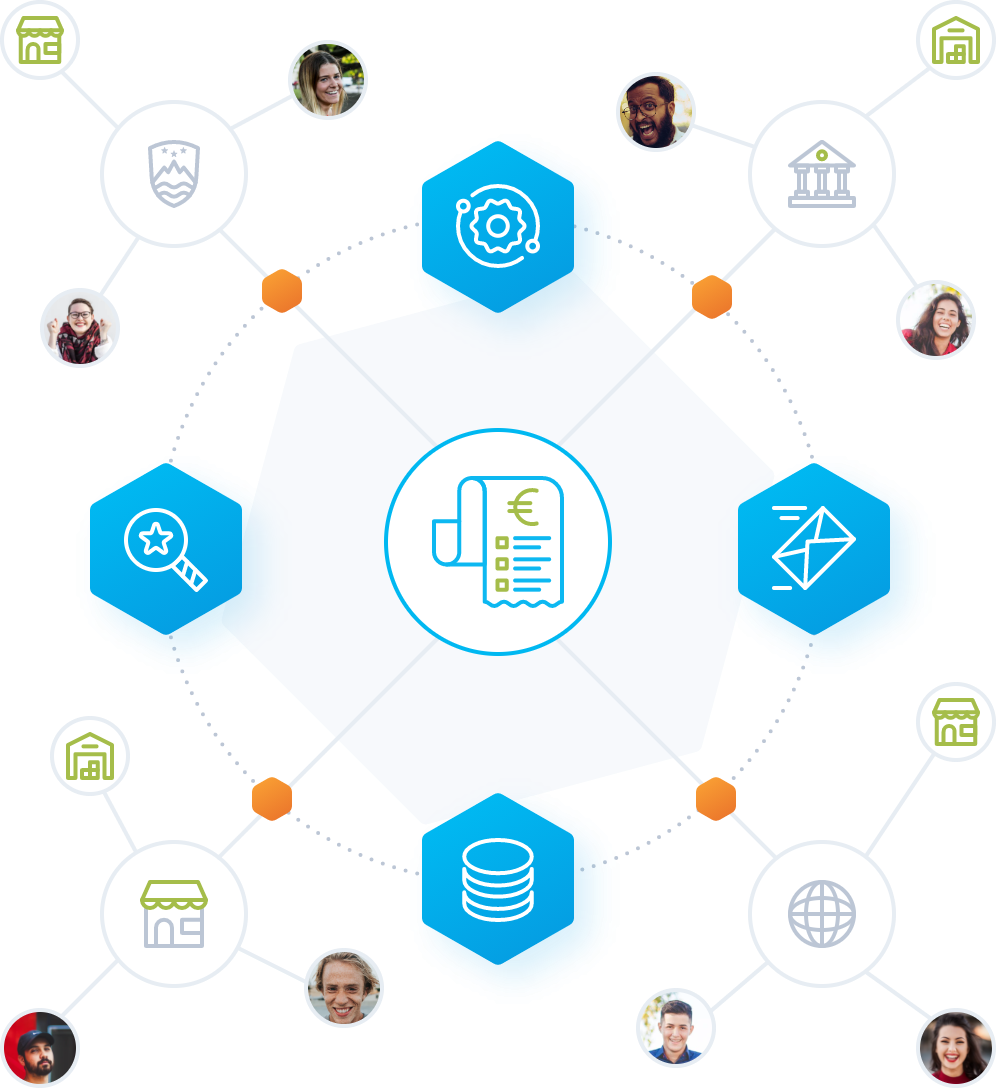 Free receipt – e-mailbox
Each bizBox user gains a free-of-charge bizBox mailbox in a cloud which is part of the electronic exchange network and is integrated in most business systems in Slovenia. Check - link to Partner solutions
That means that the company receives an e-invoice directly to their accounting or document management system; the invoice has already been prepared for approval and entry into books.
The receipt of e-invoices and other e-documents to the e-mailbox is free of charge.
Free-of-charge online and mobile e-mailbox
Free receipt to the e-mailbox
Free short-term storage in the e-mailbox
One mailbox for overall e-business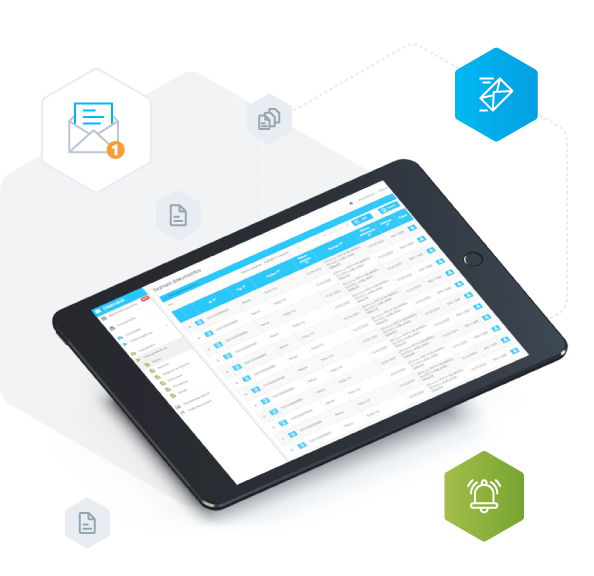 Advantages of the bizBox e-invoices
Automate the issuance, receipt and exchange of e-invoices.
Reduce the cost of manual labour, paper-based operations, printing, enveloping and sending your invoices. Transcribing invoices, scanning and manual transfers are a thing of the past in the world of bizBox.
Your customers will receive their e-invoice immediately to their apps in a format tailored to them, allowing them to clear it, enter it in their books and settle it more quickly.
The links between accounting and the company are supported.
You can eliminate errors and delays with advanced invoice controls, reviews, automatic transfers between apps and capture in the storage. You will have control, access and mobile overview of the exchange of outgoing and incoming invoices.
The users of bizBox services are guaranteed security, reliability and legal compliance with all Slovenian and EU standards.
PACKAGES
Basic package
Everything you need to transfer to e-invoicing.
Free
Basic features are always free.
Basic package:

Online and mobile e-mailbox
Connection to the bizBox EDI electronic exchange network and use of a safe exchange network
Free receipt of e-invoices and other e-documents
Interface to connect the bizBox services to your app (over 45 integrated apps and systems)
Tracking – audit trails of the exchange
Publication of your e-mailbox and access to the register of e-invoice and e-business recipients
User support
Short-term electronic archiving
Start free
Advanced package
Upgraded basic package for comprehensive e-business. A package may be customised so as to meet the user's requirements.
Advanced package:

Basic package +
Interfaces and tools for e-invoice preparation, keeping and issuance
Transmission of e-invoices through a safe exchange network to recipients in Slovenia and abroad
Support for various national and international e-invoicing standards (eSlog, UBL, GS1, etc.)
Delivery of e-invoices to various electronic exchange networks (bizBox, banks, EU PEPPOL, etc.)
E2P – upon electronic issue – e-invoice printing and delivery to classic mailboxes
Certified long-term electronic archiving of e-invoices
Inquiry
Learn about the functions and platform

The bizBox EDI electronic exchange network
Integration of bizBox in your applications
Long-term certified electronic storage
Mobile e-mailbox
Free receipt of e-invoices
Additional services upon exchange (conversions, E2P)
E-directory – an overview of e-invoice recipients
The sender no longer needs to deal with whom to send an e-invoice and whom to send a paper invoice. The bizBox will sort that out for you.
The bizBox allows you to search and select the email addresses of e-invoice recipients via the e-directory services and web app.
The bizBox e-directory is harmonised with and connected to the environments used by banks, the Chamber of Commerce and Industry of Slovenia, the public administration and addresses of other providers of safe exchange networks.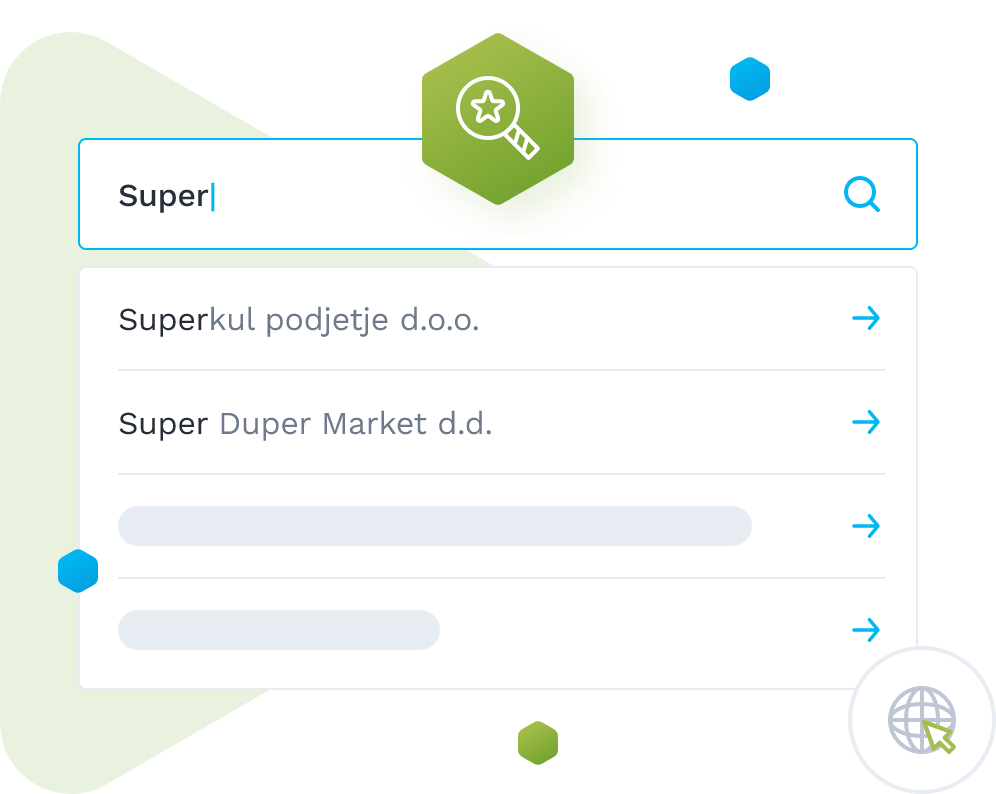 Electronic notification and reminders
We sometimes forget to check our electronic mailbox, accept an invoice or react to a non-accepted outgoing invoice.
The bizBox provides notification services regarding the status of exchanged documents and reminders of the actions required.
The bizBox will notify you or your partners about new incoming e-invoices, the statuses of outgoing e-invoices, confirmations of delivery and so on.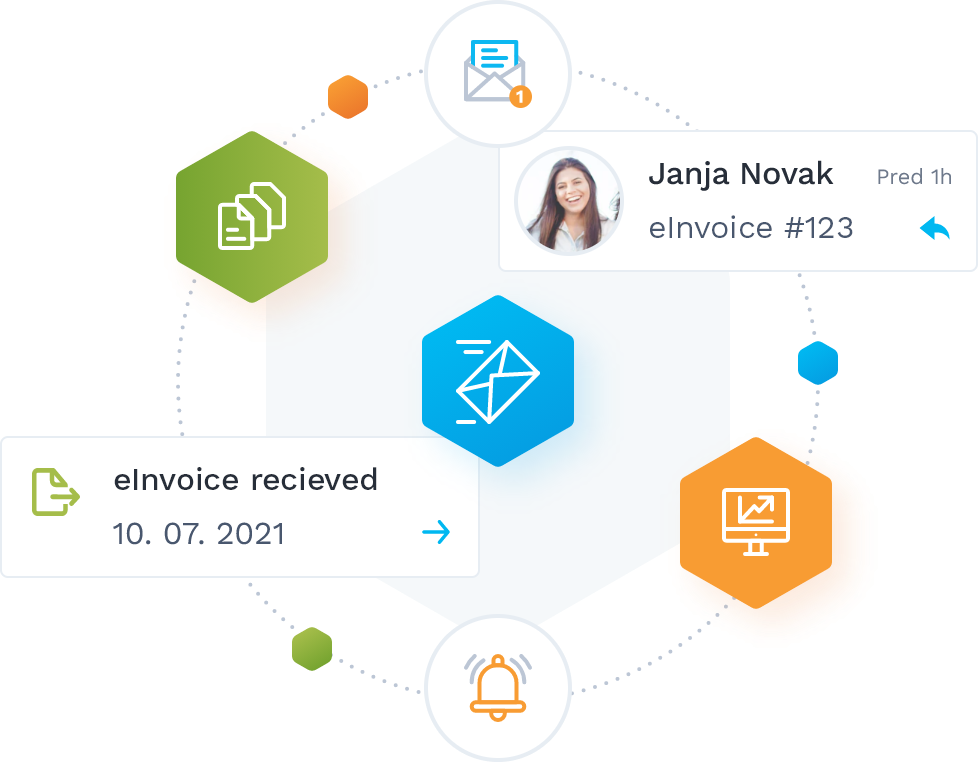 Access to and storage of e-invoices in the e-mailbox
The bizBox e-mailbox provides an overview of incoming and outgoing e-invoices and their storage. Access is provided through a mobile and web application and services which are already integrated in most of the accounting and business apps provided in Slovenia.
The users of the free-of-charge bizBox e-mailbox will never lose their incoming and outgoing invoices, may access them anywhere and clear them using their mobile device without the need to deliver them to accounting.
Outgoing and incoming invoices are, therefore, exchanged and stored pursuant to the statutory periods and regulations.
Moreover, you may store your e-invoices for longer in the eHramba.si system with just one click.